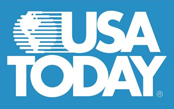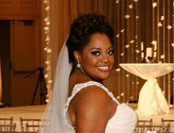 Sherri Shepherd reveals "fabulous" wedding moments

USA Today
September 12, 2011
Sherri Shepherd was a beautiful bride when she walked down the aisle to marry TV writer Lamar Sally last month in Chicago.
But you know Sherri. The day was not without its zaniness.
So she's inviting us all to watch the behind-the-scenes fun on her special Wedding Fabulous: Sherri Shepherd Gets Married, airing Tuesday at 9 p.m. ET/PT on The Style Network. View co-host and pal Elisabeth Hasselbeck was on hand, along with celeb bridesmaids Kym Whitley, Yvette Nicole Brown and Niecy Nash.
"Girl, I'm really excited," she told Lifeline Live today after she finished up her work on The View. "I watch bridal shows religiously. I wanted to show a different aspect of it entirely." The crazy aspect, she means.
Some of those moments include:
- Her no-underwear moment: She explains: "Sal and I had been celibate for 11 months before the wedding." So to help "get the car revved back up," her pals told her to be sexy on her wedding day and go commando. She even "got vajazzled" for the big day.
But as she was walking into the reception, her microphone pack began falling down the back of her dress. To get it, Elizabeth starting lifting up her gown. "I started screaming, "I have no panties!" One of her bridesmaids thought she was saying, "My pancreas!" Sherri wound up on the floor with Elisabeth shoving the pack back up her dress.
- Her bridezilla moment: The one time she really lost it, she says, was when her wedding party was rehearsing a reception dance to DJ Got Us Fallin' In Love. "Let me tell you something," she says, "We are not So You Think You Can Dance. We are not America's Best Dance Crew. We are not Dancing With the Stars. One of our groomsmen has a prosthetic leg. We rehearsed for six or seven hours and we were in so much pain!"
Finally, weary of Niecy telling her how things were done on DWTS, Sherri says, "I exploded. I said, "This is going to go viral and I refuse to look old and fat! Get it together. They pulled it together." And, she says, "In the end, everybody really bonded."
- Her bachelorette party: Yes, there was a stripper, dressed as a cop. "He said, "Baby I'm going to lift you in the air." And I said, "Oh no, you're not lifting this 170 pounds." And he is lifting me. I've got this weave on and I'm telling him to stop."
- The bill: She won't say how much the wedding cost, but when wedding planner Michael Russo gave her the bill, she was stunned. "You couldn't see the tears 'cuz I had fake lashes on," she says, adding, "Even when the cameras turned off, I was crying. It freaked me out so badly."
But, she says, having cameras roll for a month helped defray costs. "I'm not going to lie, absolutely it helped. I think that's why a lot of of these shows are flourishing." And she said that for their gift registry she and Lamar arranged for donations to be made to charities.